We did it again!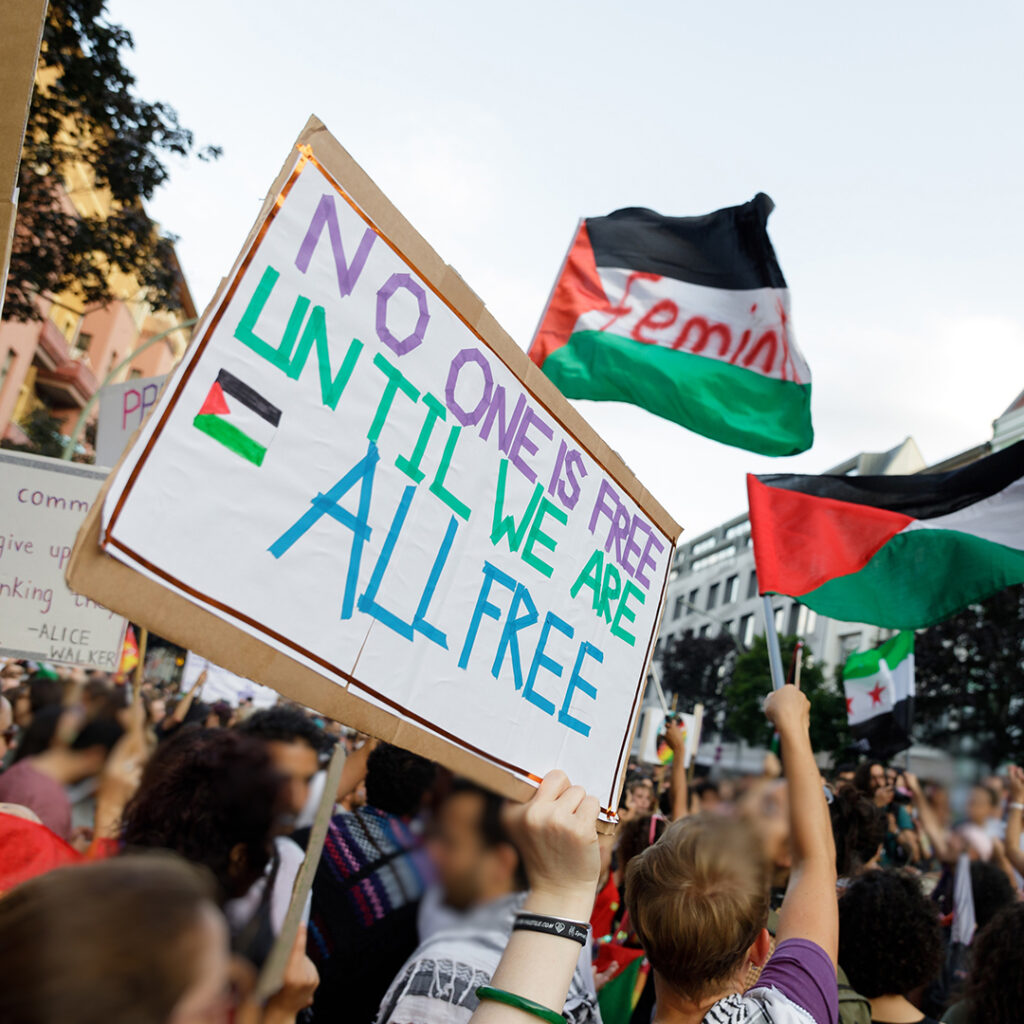 Dearest comrades, friends, and lovers of the Internationalist Queer Pride for Liberation,
On 22 July 2023 more than 12,000 of us took to the streets to celebrate our defiant existence, rebellious resistance, and the anti-colonial, anti-racist, and anti-capitalist work we do all year round.
Born out of frustration at anti-Palestinian racism prevalent in previous Berlin 'alternative' Pride events, the IQPB was created to link our struggles together and centre the voices of global majority communities. To challenge and encourage one another, and to learn and unlearn from each other. To rejoice and celebrate those who are building and living a world foregrounding love — our love of freedom, our love of justice, our love for ourselves, and our love for each other!
For the third year in a row, a coalition of queer individuals and representatives from grassroots activist and community groups joined forces to organise the IQPB. Months of tireless labour, dialogue, exchange, mutual care – and all of your support – made it possible. This year's protest featured 14 fierce blocs, 13 incendiary speeches, and a line up of powerful artists and performers who challenged our minds, touched our hearts and moved our butts.
To all the people volunteering their time and energy to make IQPB possible, from our awareness team to Ordner*innen, drivers, lawyers, sound technicians, hosts, speakers, artists, performers, banner makers, postering teams, and everyone else:
THANK YOU FROM THE BOTTOM OF OUR HEARTS!
Your work, your solidarity, and your love are what make IQPB powerful.
Alongside all this massive movement taking place across the city and in our hearts, we also make mistakes and we fuck up. Our sincere apologies go to the Black Liberation Collective (BLC) and Justice for Papatya, the two groups whose blocs we didn't manage to post on our Instagram account in the final hectic days before the demo.
Our failure to promote the BLC bloc reflects structural anti-Blackness in our organisation, and highlights that we need to work to ensure Black queer movements are front and center in future IQPBs. We take this as an opportunity to learn, to repair mistakes and damaged relationships, and to strive towards creating not just a demo, but an active anti-colonial movement rooted in solidarity.
We want to acknowledge and offer gratitude to all the Black activists, speakers, artists, and organisers who have been essential to the creation and continuation of the IQPB, and whose unwavering dedication, commitment, practical support, and political analysis are very much seen and appreciated.
There were no arrests at this year's IQPB, but several incidents occurred during the march — from objects thrown at participants, to sexual harassment and drink spiking. We are grateful to the Ordner*innen, awareness team and protesters who provided support to the best of their ability, but we recognise the need to work on this and be better prepared for next year.
We want to know how IQPB 2023 was for you! So if you'd like to share your thoughts and feelings about IQPB 2023 or help organise IQPB 2024, please get in touch with us at iqpb@riseup.net. We always welcome and appreciate your feedback.
Let's keep dreaming and nourishing our movements, and together we can create not only a fierce and fabulous day of protest, but also stronger and more deeply connected networks of queer revolt and resistance.
Echoing the words of Emma Lazarus, Fannie Lou Hamer, Martin Luther King Jr., and Maya Angelou:
None of us are free until all of us are free!
With love, solidarity, and freedom to all of you!
IQPB 2023 Orga Team

IQPB 2023 Organising Groups:
Berlin Against Pinkwashing
Berlin Migrant Strikers
Bloque Latinoamericano
FACQ
Group Seiba
Jewish Bund
Kali Feminists
Migrantifa Berlin
QuARC
Queeraspora
IQPB 2023 Blocks and Speeches:
Anti-Caste Bloc
Armenia & Artsakh Bloc
Black Liberation Collective Bloc
Bloque Latinoamericano – Abya Yala Bloc
Casa Kuà
Central Asian Queers Bloc
COVID Safe(r) and Disability Justice Bloc
Dalit Queer Project
Decolonoize Bloc
Franziska Biberkopf
International Women* Space
Jewish Bund
Justice for Papatya Bloc
Klasse gegen Klasse Bloc
Kurdish Bloc
Lecsó – Central European and Roma Bloc
Marokkueer ZAWYA
Migrantifa
Palestinian Bloc
Queer Asian Bloc
Queeraspora
Queer Sudanese Bloc
Sanam trans* collective
Sex Worker Action Group
Trans/TINA* Bloc
IQPB 2023 Performers:
Berlin Strippers Collective
Canan and AZ (Queeraspora)
DJ Grace Kelly
Enana
Pacha Queer
Queer Falafel
Photography above by montecruzphotodoc, iqpberlin
published 26/08/2023